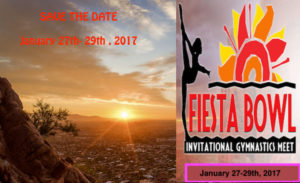 Just Added – Elite Compulsory Qualifier
Registrations available.  Please email below for information.
Welcome to the 2017 Fiesta Bowl Meet Site
This is the 43rd Annual Fiesta Bowl Invitational Gymnastics Meet.  The meet was started over 40 years ago by Roe Kreutzer to coincide with one of Arizona's premier sporting events and highlight the amazing athletes in gymnastics.  Now, the Fiesta Bowl Gymnastics Meet is a major event in Women's Gymnastics.  It continues to be a Nastia Luikin Qualifying event and is sanctioned by the USA Gymnastics Association.
Join us in 2017 for an opportunity to see new shooting stars in the sport, and legends compete at Rawhide Arena, during Arizona's best season ever.
Click here for our registration page